OKR stands for Objectives and Key Results and this method has the special property that it inspires the professional and the team to get the most out of themselves. Now all the beginning is difficult and that also applies to consistently working with OKRs, which is why we have described these 8 top tips to help you implementing OKR more easily. In this blog you will find more in-depth information about the OKR method.
8 top tips for implementing OKR
TIP 1 START SMALL
Start by determining 1 personal goal and 1 team goal and then immediately tell us what steps you are going to take to achieve the goal. Make sure you get a feel for setting goals!
Below you see a personal goal with the steps that I will take to achieve the goal.
Personal goal
I want to feel fitter throughout the day
What am I going to do for that? (measurable actions)
Exercise for 30 minutes every day
2 pieces of fruit every day
8x a day short exercises with sedentary work
Teamgoal
We are going to build a culture of learning and communication
What are we going to do for that? (measurable actions)
Every employee has the required certifications
Schedule 2 team sessions to discuss goals and progress
Provide 1 training on giving direct feedback
TIP 2 BE BRAVE!
Think big and accept that goals are not always achieved.
Low formulated goals lead to boredom, high formulated goals to flow. Source: Omdenken
Challenge each other and bring out the best in everyone, not a competition but a working environment where you and the team get the most out of yourself.
TIP 3 FOCUS!
Invlove employees in the course and your goal becomes their goal!
Align organizational and team goals for the right focus within the organization.
Create engaged and motivated employees who perform better and are more loyal.
TIP 4 INSPIRE & MOTIVATE
Objectives are statements that inspire and give direction.
They should be short, engaging and motivating.
Measurable actions are a set of metrics that measure your progress toward the goal.
Use the language of organization and try to make it light-hearted with a little bit of humor.
TIP 5 YES OR NO
Zorg dat de resultaten meetbaar zijn zonder debat. Is het resultaat behaald? Ja of nee?
Je maakt ze meetbaar door de volgende elementen toe te voegen;
A Verb

What are you going to do?

Measured value

,

% # €

Date
TIP 6 AMBITIOUS
Goals go beyond current capabilities of the professional and organization
Goals must ensure that the vision is always ahead of the organisation's capabilities.
When the goals match the capabilities, you are not developing enough.
Goals serve to initiate a movement to challenge yourself.
This keeps you relevant in a rapidly changing world.
TIP 7 STRUCTURE
Make goal setting not a one-time thing but part of the work routine.
You do this by setting a rhythm with fixed moments for short growth standups (5 minutes)
Note that it should not result in extra meetings, but rather make file meetings more effective or perhaps fewer meetings.
The management also plays an important role in this, as setting a good example!
TIP 8 FIND YOUR OWN RHYTHM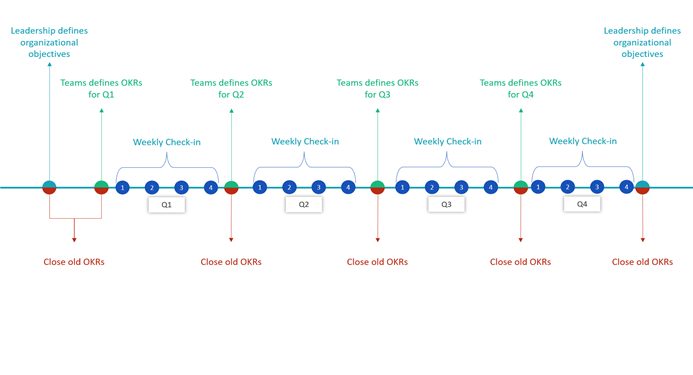 Strategy, tactics and operation have different natural rhythms.
A high level strategic rhythm for the longer term for the company (usually annual).
A tactical rhythm with shorter term goals for the teams (usually quarterly).
An operational rhythm for tracking results and initiatives (usually weekly)
Who is the creator of Objectives and Key Results?
John Doerr is one of the most successful venture capitalists of all time. He started his career at Intel and it was here that he became acquainted with Intel Management By Objectives. He has refined and introduced this concept to, among others, Google.