How do you gain talent and retain your talent?
Managers' main task is to assemble a dream team to ensure inspiring, creative and successful collaborations that contribute to the success of an organization.
Do we have the right skills to deliver great performance?
Provide clarity and purpose
Feedback is not a formal conversation that happens every now and then, but an ongoing aspect of communication and collaboration.
Feedback and coaching lead to involvement, so that the manager and employee learn from each other.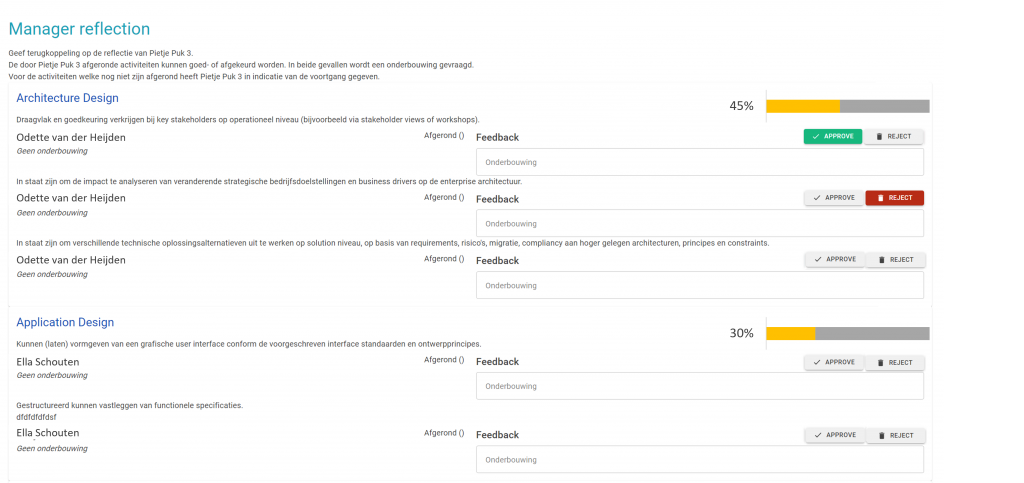 The basis is clarity in expectations
How can I contribute to the organization as a professional?
What skills are expected of me?
What are the goals of organization?
Is everyone working on the right topics?
Insights into organizational growth potential
CareerTracker is a platform with measurable roles and associated skills that are aligned with current and future strategy with the ability to manage Objectives and Key Results, OKRs.
OKRs is a system for setting goals, creating alignment and engagement around measurable and ambitious goals.
This method is used by Intel, Google and Adobe, among others.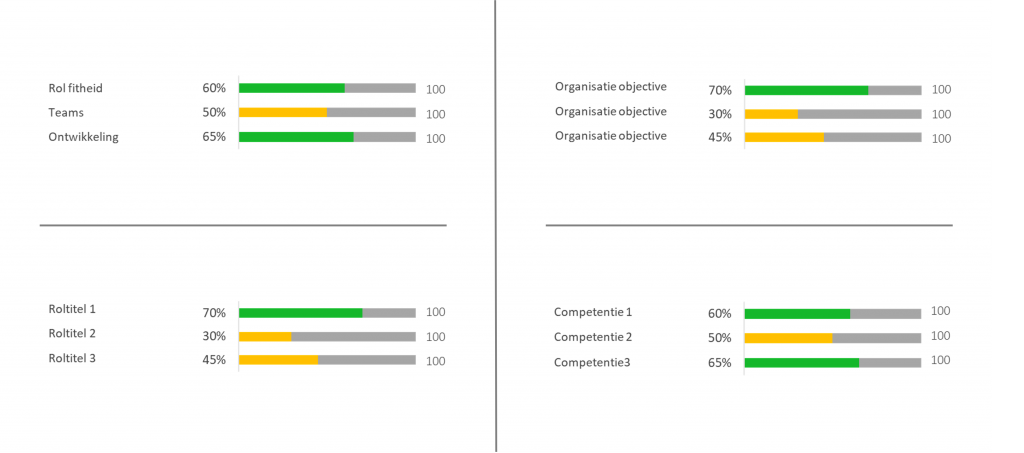 Insights into role compliance by department
You can choose from many competence examples or add your own.
These competences are based on international standards such as the European e-Competence Framework.
It is also possible to include your own competency framework.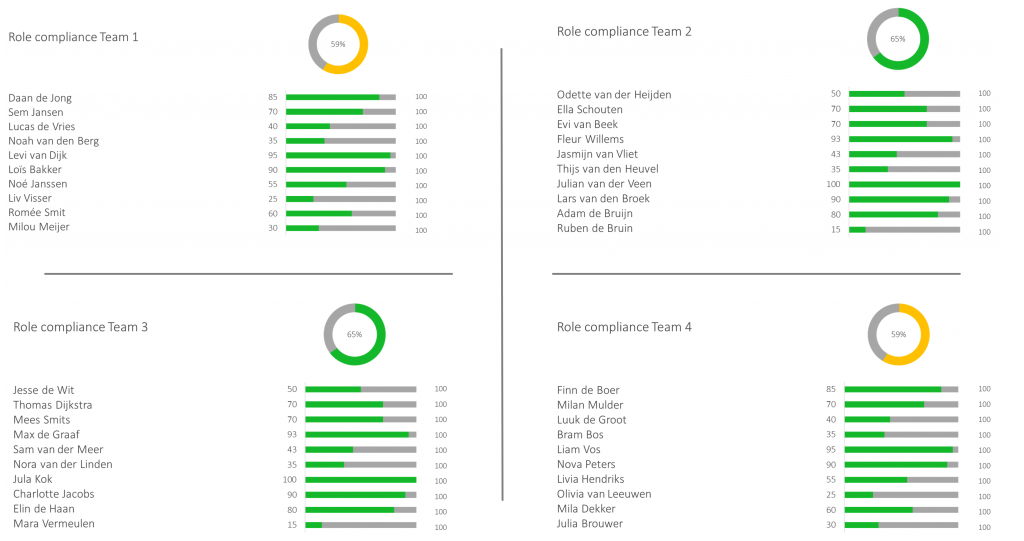 Insights into personal growth based on organizational role
A Personal Development Plan is generated for each employee who completes the questionnaire.
The development tips in this plan are very concrete, have a short cyclical nature and are geared to the work processes within the organization.
This makes them easy to incorporate into everyday work.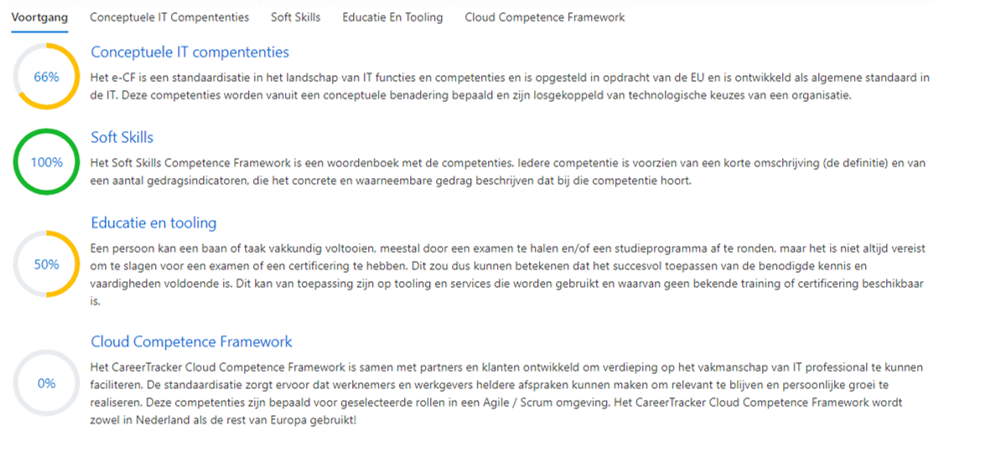 Understanding the OKRs for the organization
OKR (Objectives and Key Results) is a goal setting system used by Google and other companies.
It's a smart approach to create alignment and engagement around measurable and ambitious goals.
Objective: meaningful, concrete, action-oriented, inspiring
Key Results: specific and time-bound, aggressive but realistic, measurable and verifiable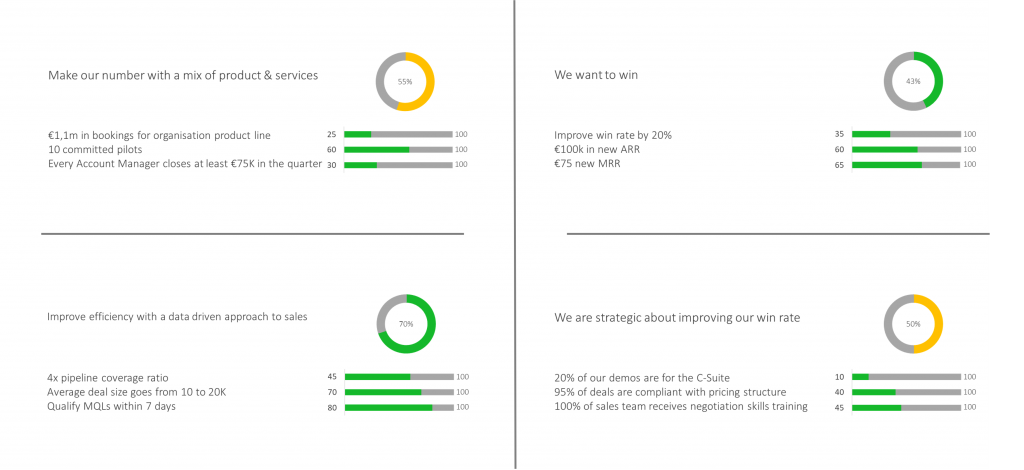 Set goals based on OKRs
Within CareerTracker we apply 10 Objective and Key Resluts rules.
1 Less is more, 3-5 OKRs per quarter
2 Measurable without discussion, Key Results must start with a verb
3 Score with 70% green Google -rule, aim high and 70% is sufficient
4 50-50 up and down, 50% MT – 50% Staff
5 Stay flexible, things change so adapt
6 Teams aligned, focus on core goal
7 Think big and dare to fail, accept 50% failure to innovate
8 Tooling so no weapons, gain clarity and alignment and never link it to rewards, bonus or salary
9 Holistic focus with work and personal goals
10 Make sure OKR helps structure your organization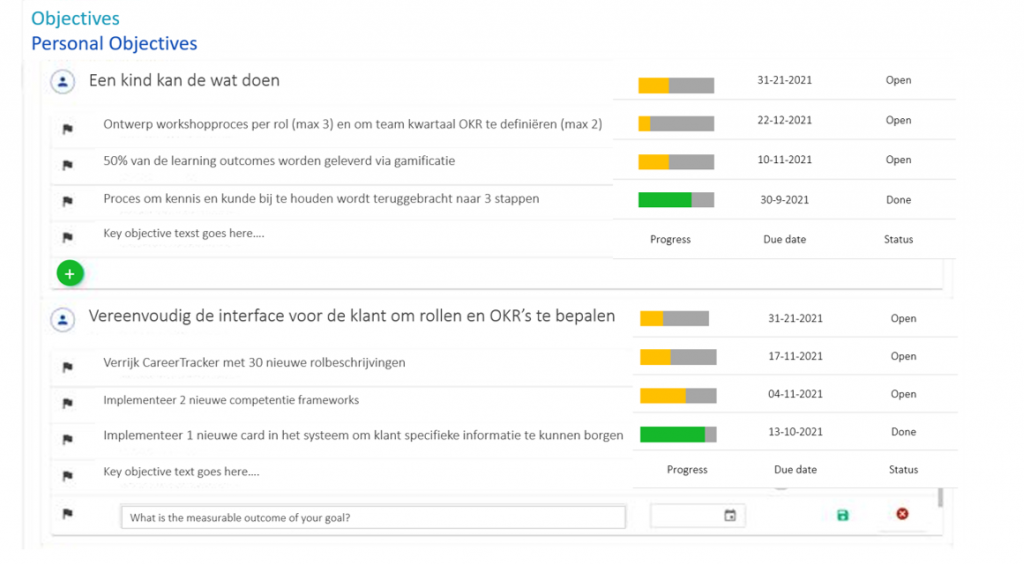 Your team fit and ready for the future with the right employee in the right place
This is our goal, which we want to achieve with you
What are the outcomes for our customers?
"It's great that I now know what I need to do to keep growing" insurance company employee
In addition to training, the concrete development tips that I can immediately apply are of great value" employee of telecom company
"We now know how to develop the different teams" financial organization employee
"Th"The insights allow us to draw up short and targeted development processes together with our customers to speed up implementation" technical partner
"For me as a transformation coach CareerTracker is very useful as a talking piece to use during the transformation process."
"My organization generates additional revenue by offering CareerTracker, both in terms of licenses and the services around it" a change organization
Craftsmanship Passport for the professional
Easy to use for internal mobility
Add-on to resume for insights to new employers
Recruit new talent, retain and develop existing talent
CareerTracker 
About us
Gerrit Jan Straatsma
Over 20 years experience in software architecture, software development and team management.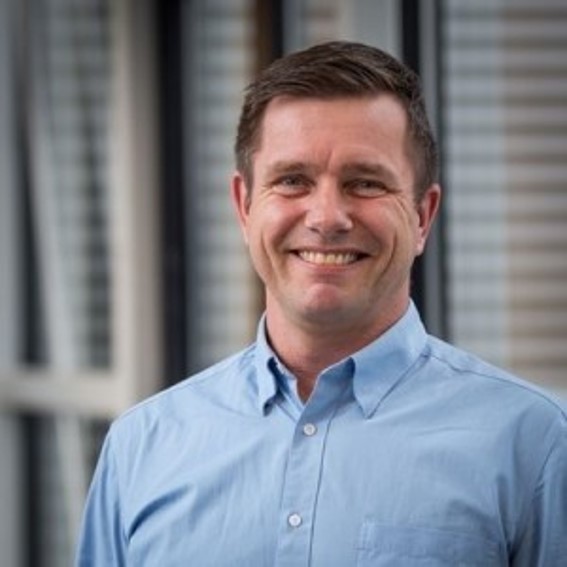 Maarten van Dalen
Over 20 years experience in the development of professionals.