Software voor teamfocus & skills
Start creating focus in the team and ensure that the team has the right skills to secure the strategy.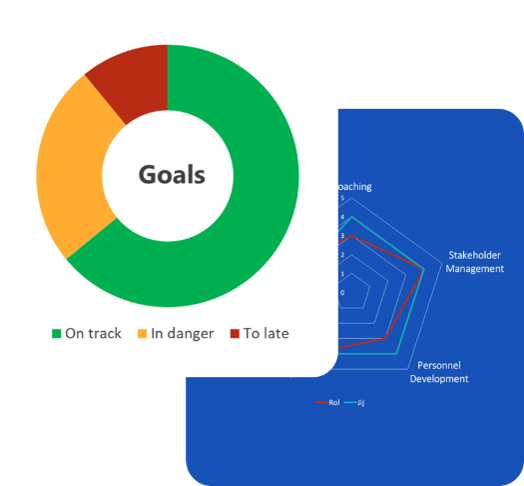 Start capturing and sharing the strategic goals
Create the right focus within all teams
Focus & skills
for the professional
Skills inventory
Personal Development Plan
Reflection
360 feedback
Focus & skills
for the team
Document teamgoals
Document the progression
Is there enough backup in team in terms of skills?
Focus & skills
for the organisation
Is everyone working with the right focus to achieve the strategy goals?
Does everyone have the right skills to remain relevant?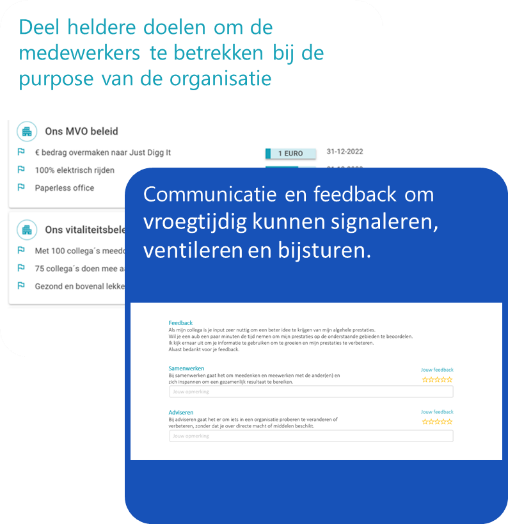 Retaining the right talent is the new recruitment
The pool of available talents has almost dried up and everyone is fishing in the same pond. So you want to prevent the unwanted departure of talent.
54%
of employees leave because they lack appreciation
51%
of employees leave because they lack purpose
Blog for organisations and professionals

In this whitepaper:6 steps for a resilient organization we describe 6 steps to achieve a resilient organization. Technological developments follow each other in rapid succession. One is a hype, the other causes substantial changes in the world. Just think of … Continued Feedback and communication are important because this contributes to a positive working climate, a good working atmosphere and self-confidence of the individual team members. It promotes team performance, business results and prevents failure and absenteeism. Feedback and communication can be … Continued

It is important to look in the mirror every now and then because reflections offer self-insight that help to ensure growth. Organizations are the best environment in the world to help people realize their potential. Reflections offer the employee and … Continued
SERVICES
Inspiration session: Starting the new HR Cycle
by CareerTracker and partners
Workshop: Objectives and Key Results
by CareerTracker and partners
Workshop: Roles and skills
by CareerTracker and partners
Workshop: How to conduct 1:1 development conversations
by CareerTracker and partners
Workshop: How to give the right feedback
by CareerTracker and partners
User trainingen
by CareerTracker and partners
API
CareerTracker is easy to link with existing HR systems. No replacing systems or arranging a lot of new processes
AFAS, Azure and many other options.
Single Sign On
Are you doing it alone or with a partner?
To help you we have a broad ecosystem of partners who all have their own expertise. We are happy to introduce a few to you if you need help so that you can make the right choice.
Want to become a partner?
If you want to become a CareerTracker partner, you can use the button below.